Description
PWRMDC Syllabus 2021 Overview
PWRMDC Syllabus 2021 & Exam Pattern
Organization Name
Punjab Water Resources Management and Development Corporation
Post Name
Tubewell Operator, Electrician & Company Secretary
Category
Syllabus
Selection Process
Written Exam, Counselling
Location
Punjab
Official Site
pwrmdc.punjab.gov.in
PWRMDC Selection Process 2021 (Tubewell Operator, Electrician, Company Secretary)
Applied candidates for the posts of Tubewell Operator, Electrician & Company Secretary have to attend the Written Exam, Counselling as of the PWRMDC Selection Process. Candidates have to attend the Written exam, those who scored the highest marks in the written exam will be called for Counselling.
PWRMDC Exam Pattern 2021 (Tubewell Operator, Electrician, Company Secretary)
Officials of Punjab Water Resources Management and Development Corporation have prescribed a different exam pattern for the Tubewell Operator, Electrician & Company Secretary positions. Minimum marks for qualifying written exam for any
post and any category will be 20%.
There will be a negative marking of 1/4th mark for every wrong answer. The candidate will mark their answer on the OMR sheet. The question papers of the Tubewell Operator and Electrician cadre will be in English and Punjabi (except language part) and the question papers of the Company Secretary will be in English only. The duration of the exam will be a maximum of two hours. The Written exam will have 100 objective-type questions with multiple choice answers, each carrying one mark.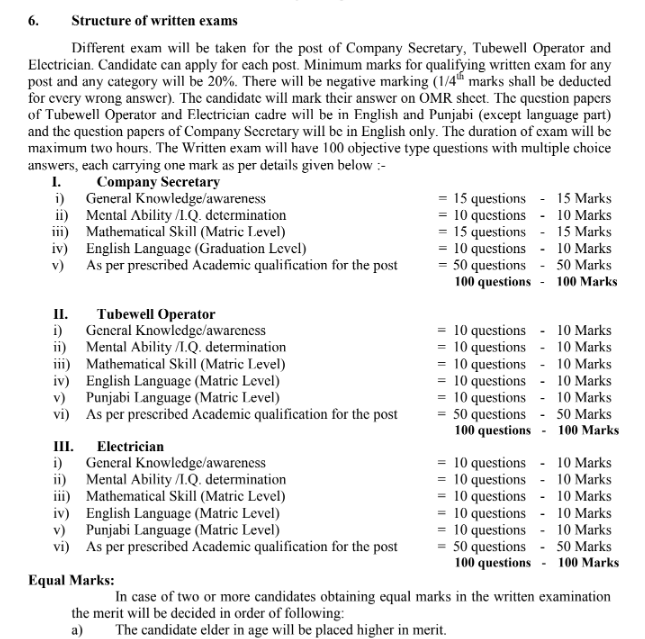 PWRMDC Subject Wise Syllabus (Tubewell Operator, Electrician, Company Secretary)
At the time of preparation for the exam, many candidates will get confused with the syllabus. So, before the preparation begins, you need to be with the exact PWRMDC Syllabus 2021 for the exam. Aspirants who refer to the PWRMDC Syllabus 2021, can gain a good range of marks in the exam. Moreover, the topics in the PWRMDC Electrician Syllabus 2021, will help the candidates to get a clear picture of the questions to be asked in the PWRMDC Exam 2021. The topics for the subjects of General Knowledge, Mental Ability, Mathematics Skills, English Language will make you know to learn the concepts in a detailed manner. Below is the link to download the PWRMDC Syllabus 2021 PDF.
General Knowledge
Current Events – National & International
Indian Culture & Heritage
Indian Constitution
Indian Geography
Indian Economy
Indian History
Indian Polity
IT & Space etc
Science & Technology
★★ Practice GK Questions & Answers ★★
Mental Ability
Paper Folding
Series Completion
Verification of truth of the Statement
Situation Reaction Test
Paper Cutting
Mirror Images
Rules Detection
Sequential Output training
Directions
Word Sequence
Missing Characters
Analogy
Classification
Cubes and Dice
Puzzle Test
Figure Matrix
Completion Incomplete Pattern
Spotting embedded figures
Classification
Analytical Reasoning
Dot Situation
Data Sufficiency
Alpha-Numeric Sequence Puzzle
Water Images
Coding-Decoding
Assertion and Reasoning
Arithmetical Reasoning
Operations of Mathematics
Venn Diagrams
Direction Sense Test
Blood Relations
Forming figures and analysis
Construction of Squares and Triangles
Series
Test on Alphabets
Eligibility Test
Identical figure groupings
English Language
Fill in the Blanks
Antonyms and their correct usage
Common Error
Improvement of Sentences
Synonyms/Homonyms
Antonyms
Shuffling of Sentence parts
Spellings/Detecting Mis-spelt words
Conversions
Sentence Rearrangement
Shuffling of Sentences in a passage
Idioms & Phrases
Grammar
Vocabulary
One word substitution
Active/Passive Voice of Verbs
Comprehension Passage
Spot the Error
Cloze Passage
★★ Practice English Questions & Answers ★★
Mathematics
Averages
Simple Interest
Probability
Time and Work Partnership
Ratio and Proportion
Volumes Profit and Loss
Races and Games
Problems on L.C.M and H.C.F
Problems on Numbers
Mixtures and Allegations
Simple Equations
Quadratic Equations
Problems on Trains
Odd Man Out
Numbers and Ages
Indices and Surds
Pipes and Cisterns
Mensuration
Areas
Compound Interest
Time and Distance
Percentages
Boats and Streams
Permutations and Combinations
Simplification and Approximation
To get more updates about the PWRMDC Syllabus 2021, stay tuned to our website @ examinspect.com
PWRMDC Syllabus 2021 – FAQ's
Is there any negative marking scheme in the PWRMDC Exam 2021?
For every wrong answer, 1/4th mark will be deducted in the PWRMDC Written exam.
How many questions will be asked in the PWRMDC Tubewell Operator Exam 2021?
In PWRMDC Tubewell Operator Exam, 100 objective-type questions will be asked.
What is the PWRMDC Selection Process?
The PWRMDC Selection Process is Written Exam, Counselling.
What is the duration of the PWRMDC Exam 2021?
The duration of the PWRMDC Exam 2021 is 2 Hours.
For how many marks is the PWRMDC Exam 2021 is conducted?
PWRMDC Exam 2021 is for 100 Marks.